Image of Streptococcus pyogenes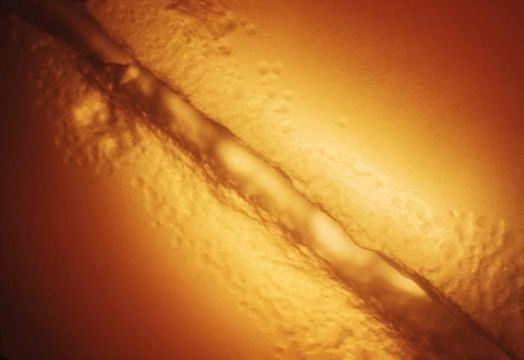 Description:
Magnified 100X, this image depicted a Petri dish filled with trypticase soy agar medium containing 5% defibrinated sheep's blood, i.e., blood agar plate (BAP). After having been inoculated by stabbing the surface of the BAP with a non-hemolytic group A Streptococcus pyogenes (GAS) bacteria. The BAP was incubated in a carbon dioxide enriched atmosphere at 35oC for 24 hours. The culture grew bacterial colonies along the stab in the BAP. There are no clear characteristic color changes in the region surrounding the stabbed area of the BAP in which the red blood cells in the blood agar medium have been altered to some extent. This "hemolyzed zone" indicated that these bacteria appear more like alpha- or WZ-alpha colonies in nature, which means that stabbing the BAP with non-hemolytic GAS is not helpful in the identification of the non-hemolytic variants of GAS.
Created: 1977
Included On The Following Pages:
This image is not featured in any collections.
Source Information
original

partner site

ID

3602594