Caenorhabditis elegans Oil-Red-o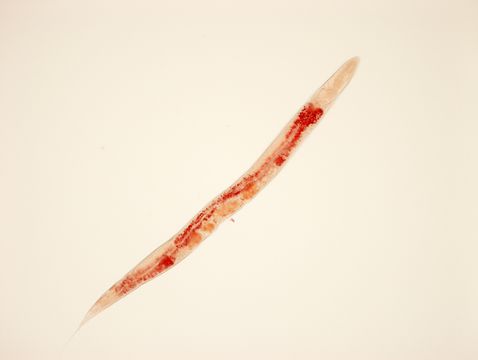 Description:
Summary[edit] DescriptionAPI English: Caenorhabditis elegans is a popular model organims amongst molecular biologists because it has specific number of cells and its´body is transparent. It is easy to manipulate with its´genome making it possible to visualise different structures and different celltypes. In this photo wildtype worm N2 adult stage was coloured using Oil-Red-O technique, which coloures triglycerides and in this picture all typical fat storage places are visible: gonade, eggs and fat deposits in hypodermis. Picture was made in Tartu, Estonia with Olympus BX 51 Nomarski, using Cell B program. Eesti: Caenorhabditis elegans on väga levinud mudelorganism molekulaarbioloogide hulgas, sest tema keharakkude arv on determineeritud ning kõik rakud on läbipaistvad. Tema genoomiga on lihtne manipuleerida, võimaldades visualiseerida kindlaid rakutüüpe ja rakustruktuure. Sellel fotol on metsiktüüpi ussiliini N2 värvitud Oil-Red-Oga, mis toob esile triglütseriidide varud. Näha on tüüpilised rasvadepood gonaadis, munades ja hüpodermises. Pilt on tehtud 2012. aasta mais Tartus, kasutades 20x suurendusega Olympus BX 51 Nomarski mikroskoopi, Cell B programmi. Date 29 May 2012 Source Own work Author Tormikotkas This image was uploaded as part of Estonian Science Photo Competition. English | eesti | français | русский | українська | +/−
Included On The Following Pages:
This image is not featured in any collections.
Source Information
original

partner site

ID

22042535