Die Orchideen von Java - fig. 57-59 (1908)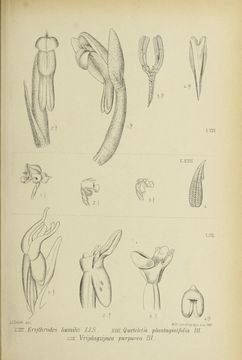 Description:
Summary[edit] DescriptionAPI Smith dei. u v _ ,■
M.Kromohardjo.z st.lith.
EW. Enjthrodes humilis U.S. mn.Queteklia plantaginifolia BI .
izr . Vrijdagztjnea purpu reu B l . Date 1908 Source http://www.flickr.com/photos/biodivlibrary/16087976112 Author Smith, J. J. Full title Die orchideen von Java / Page ID 45826031 Item ID 165390 (Find related Wikimedia Commons images) Title ID 86938 (Find related Wikimedia Commons images) BHL Page URL http://www.biodiversitylibrary.org/page/45826031 DOI 10.2307/4070241 Page type Illustration Flickr sets Die orchideen von Java Flickr tags Indonesia Java Orchids Harvard University Botany Libraries bhl:page 45826031 dc:identifier http://biodiversitylibrary.org/page/45826031 harvard university botany libraries Flickr posted date 23 December 2014 Credit This file comes from the Biodiversity Heritage Library. This tag does not indicate the copyright status of the attached work. A normal copyright tag is still required. See Commons:Licensing for more information. Deutsch | English | Español | Français | Italiano | Македонски | Nederlands | +/−
Included On The Following Pages:
This image is not featured in any collections.
Source Information
original

partner site

ID

42634385