The orchid-grower's manual : containing descriptions of the best species and varieties of orchidaceous plants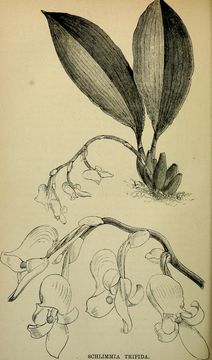 Description:

Identifier: orchidgrowersman00inwill (find matches)
Title: The orchid-grower's manual : containing descriptions of the best species and varieties of orchidaceous plants
Year: 1885 (1880s)
Authors: Williams, Benjamin Samuel, 1822-1890
Subjects: Orchids
Publisher: London : Victoria and Paradise Nurseries
Contributing Library: University of Pittsburgh Library System
Digitizing Sponsor: Lyrasis Members and Sloan Foundation

View Book Page: Book Viewer
About This Book: Catalog Entry
View All Images: All Images From Book
Click here to view book online to see this illustration in context in a browseable online version of this book.

Text Appearing Before Image:
the genus lihynchosUjlis ofBlume. The stems are erect, stoutish, thickly clothed withthe recurved distichous foliage; the leaves are a foot or morein length, and two inches in breadth, of a rich deep green,somewhat striated with lines of a deeper colour; and fromthe leaf-axils are produced the showy racemes, twelve tofifteen inches in length, in which the flowers are verynumerous, the sepals and petals pure white, spotted withmauve, and the lip dark mauve, marked with deeper colouredlines. It generally blooms in January and February, andlasts four or five weeks in perfection if kept from the damp.The plant succeeds in a pot well drained, and surfaced witha little growing sphagnum moss.—Manilla. ¥iQ.—Warner, Sel. Orch. PI, i. t. 14; Puydt, Les Orch., t. 39 (poor).SVN.—Vanda violacea; Rhynchostylis violacea. S. Tiolaceum Harrisonianum, Williams.—A beautiful white-flowered variety of S. violaceum. It is a stout-growingplant, with erect stems, bearing distichous leaves, which are
Text Appearing After Image:
SCHLIMMIA. 5G9 broadly oblong, keekcl beneath, striated, and unequallybilobed at the apex, but of a somewhat lighter green colourthan in the typical S. violaceum. It produces dense axillaryracemes, sometimes as much as two feet long, of large purewhite blossoms, which are remarkably sweet-scented, and asthese are produced in the winter season they become doublyvaluable on that account.—Piilo Copang, an island in theChinese Seas. FiG.—Bot. Mag., t. 5433 ; Flore des Serres, t. 2412.Byn.—
Included On The Following Pages:
This image is not featured in any collections.
Source Information
original

partner site

ID

43173284