Plain home talk about the human system--the habits of men and women--the cause and prevention of disease--our sexual relations and social natures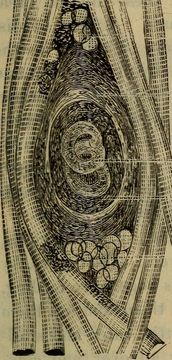 Description:

Identifier: plainhometalkabo00foot (find matches)
Title: Plain home talk about the human system--the habits of men and women--the cause and prevention of disease--our sexual relations and social natures
Year: 1896 (1890s)
Authors: Foote. Edward B(liss), 1829-1906. (from old catalog)
Subjects: Medicine, Popular Marriage
Publisher: New York : Murray Hill publishing company (etc., etc.)
Contributing Library: The Library of Congress
Digitizing Sponsor: The Library of Congress

View Book Page: Book Viewer
About This Book: Catalog Entry
View All Images: All Images From Book
Click here to view book online to see this illustration in context in a browseable online version of this book.

Text Appearing Before Image:
piece of meatthe heat at the centre, during cooking, is not sufficient to kill thetrichinae therein. There seems, therefore, to be no solution of thisinternational sanitary and trade complication, but any person cansettle the problem for himself by declining pork foods. Of course,even when cooking fails to kill the encysted worms it is possible thatpersons of remarkably good digestions and unlimited gastric juicesmay be able to digest them, but it is a risk they would hardly takeknowiugly. It is reported that during a period of five years, whenthe people of New York City and Philadelphia consumed nearlyfifteen million hogs, among 350,072 deaths recorded there were onlysix, three in each city, from trichiniasis ; but since it requires amicroscopic post-mortem examination to determine it, very likelymany more deaths were due to this cause than thus appears. In the illustrations herewith given of the trichinae parasite, Fig.13 shows the separated worm (A), the separated sacs or encysted
Text Appearing After Image:
62 CAUSES OF NERVOUS AND BLOOD DERANGEMENTS. worms (c d), and a piece of meat less highly magnified (b), withmany of the cysts scattered through it. In Fig. 14 the muscle fibresare shown pressed apart by a cysted trichina. The foregoing remarks have been made with reference to the bestclass of swine; but what shall I say, when I come to speak of thosefattened in distilleries! I have seen droves of these inflated crea-tures driven to the slaughter-houses in Cincinnati. A herd of dis-eased, bloated, besotted men would not be more sickening to therefined spectator. The hair of these creatures is invariably thin andscattered, and the skin looks like that of a confirmed inebriate.Some have tumors varying in size from a small apple to a good-sizedcabbage. I have been told by Cincinnati butchers that tumors arenot unfrequently found inside the meat, and that, when laid openby the knife, purulent matter is emitted; but these diseased carcassesare sold, and form one of the articles of food in

Note About Images
Please note that these images are extracted from scanned page images that may have been digitally enhanced for readability - coloration and appearance of these illustrations may not perfectly resemble the original work.
Included On The Following Pages:
This image is not featured in any collections.
Source Information
original

partner site

ID

43352770