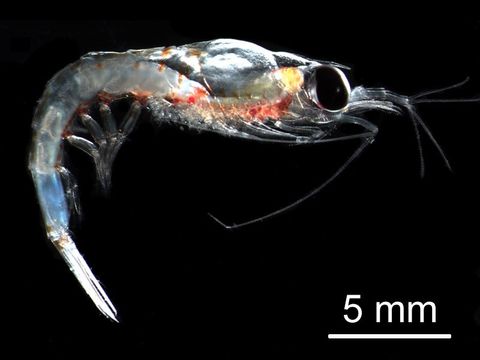 Description:
DescriptionAPI A krill of the species Thysanoessa longipes. Date 2005 Source Immediate image source: [1] Author Dr. Russell R. Hopcroft, Institute of Marine Science, University of Alaska Fairbanks. Permission
(Reusing this file) Permission is granted to copy, distribute and/or modify this document under the terms of the GNU Free Documentation License, Version 1.2 or any later version published by the Free Software Foundation; with no Invariant Sections, no Front-Cover Texts, and no Back-Cover Texts. A copy of the license is included in the section entitled GNU Free Documentation License.http://www.gnu.org/copyleft/fdl.htmlGFDLGNU Free Documentation Licensetruetrue
This file is licensed under the Creative Commons Attribution-Share Alike 3.0 Unported license. This licensing tag was added to this file as part of the GFDL licensing update.http://creativecommons.org/licenses/by-sa/3.0/CC-BY-SA-3.0Creative Commons Attribution-Share Alike 3.0truetrue This work is free and may be used by anyone for any purpose. If you wish to use this content, you do not need to request permission as long as you follow any licensing requirements mentioned on this page. Wikimedia has received an e-mail confirming that the copyright holder has approved publication under the terms mentioned on this page. This correspondence has been reviewed by an OTRS member and stored in our permission archive. The correspondence is available to trusted volunteers as ticket #2006022210008651. If you have questions about the archived correspondence, please use the OTRS noticeboard.
Ticket link: https://ticket.wikimedia.org/otrs/index.pl?Action=AgentTicketZoom&TicketNumber=2006022210008651 Note: at the extlik, the image is labelled "Hopcroft/NOAA". As a NOAA image, it would be in the public domain, but as I haven't found it on any NOAA web site, I thought it prudent to ask for a GFDL release. Lupo 10:47, 15 August 2005 (UTC)
Best Image for Page
Included On The Following Pages:
This image is not featured in any collections.
Source Information
original

partner site

ID

269731