The fishes of the Nile (Pl. VII) (6815489112)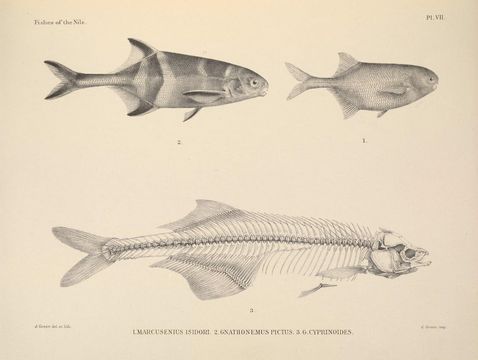 Description:
Summary[edit] DescriptionAPI £h
m
■
7
.1
,
en
W
i — i
O
3
CO
CO
o
E
CO
o
%
o
CO
CO
P
PS Date 1907 Source http://www.flickr.com/photos/biodivlibrary/6815489112 Author Boulenger, George Albert; Loat, L. Full title The fishes of the Nile. Page ID 35727300 Item ID 110485 (Find related Wikimedia Commons images) Title ID 51710 (Find related Wikimedia Commons images) Page numbers Pl. VII BHL Page URL http://www.biodiversitylibrary.org/page/35727300 DOI 10.5962/bhl.title.51710 Page type Illustration Flickr sets The fishes of the Nile. atlas. Flickr pools Encyclopedia of Life Images Flickr tags Egypt Fishes Smithsonian Institution Libraries bhl:page 35727300 dc:identifier http://biodiversitylibrary.org/page/35727300 taxonomy:binomial Marcusenius isidori taxonomy:binomial Gnathonemus pictus taxonomy:binomial Gathonemus cyprinoides smithsonian institution libraries taxonomy:binomial marcusenius isidori taxonomy:binomial gnathonemus pictus taxonomy:binomial gathonemus cyprinoides Flickr posted date 7 March 2012 Credit This file comes from the Biodiversity Heritage Library. This tag does not indicate the copyright status of the attached work. A normal copyright tag is still required. See Commons:Licensing for more information. Deutsch | English | Español | Français | Italiano | Македонски | Nederlands | +/−
Included On The Following Pages:
This image is not featured in any collections.
Source Information
original

partner site

ID

43244576