Pachyphyllum pastii - P. hartwegii (as P. distichum) - P. hartwegii - P. serra - Xenia vol 1 pl 58 (1858)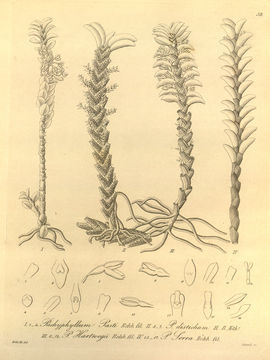 Description:
Summary[edit] DescriptionAPI Illustration of
I, 1-4. Fernandezia pastii (spelled Pachyphyllum pasti)
II, 5-7 Fernandezia distichoides (as syn. Pachyphyllum distichum)
III, 8-12 Fernandezia theodorii (as syn. Pachyphyllum hartwegii)
IV, 13-17 Fernandezia serra (as syn. Pachyphyllum serra)
Date 1858 Source "Xenia orchidacea" vol. 1 tab. 58
This file comes from the Biodiversity Heritage Library, and is available online at biodiversitylibrary.org/page/696458. This tag does not indicate the copyright status of the attached work. A normal copyright tag is still required. See Commons:Licensing for more information. Deutsch | English | Español | Français | Italiano | Македонски | Nederlands | +/− Author Heinrich Gustav Reichenbach (1823–1889) Description German botanist Date of birth/death 3 January 1823 6 May 1889 Location of birth/death Leipzig Hamburg Work location Leipzig Authority control : Q62820 VIAF: 77066171 ISNI: 0000 0000 8396 1069 LCCN: n79125882 NLA: 35749194 Botanist: Rchb.f. WorldCat
Included On The Following Pages:
This image is not featured in any collections.
Source Information
creator

Heinrich Gustav Reichenbach

source

"Xenia orchidacea" vol. 1 tab. 58
original

partner site

ID

8451582