Acropyga epedana casent0006064 dorsal 1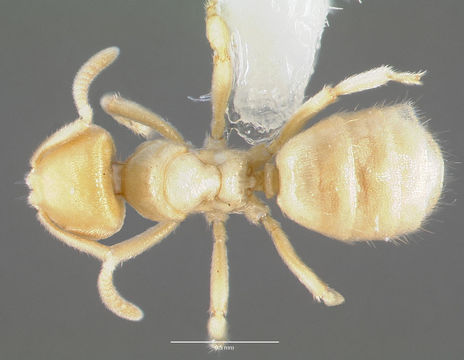 Description:
Summary[edit] DescriptionAPI English: Dorsal view of ant Acropyga epedana specimen casent0006064. Date Source AntWeb.org Author This file is lacking author information. Attribution
(required by the license) © AntWeb.org / CC BY-SA 3.0 © AntWeb.org Camera location 31° 52′ 59.88″ N, 109° 12′ 25.2″ W View all coordinates using: OpenStreetMap - Google Earth 31.883300; -109.207000 Regnum: Animalia • Phylum: Arthropoda • Classis: Insecta • Ordo: Hymenoptera • Subordo: Apocrita • Superfamilia: Vespoidea • Familia: Formicidae • Subfamilia: Formicinae • Genus: Acropyga • Species: Acropyga epedana Polla, 2004 Licensing[edit] AntWeb content is licensed under a Creative Commons Attribution License. We encourage use of AntWeb images. In print, each image must include attribution to its photographer and "from www.AntWeb.org" in the figure caption. For websites, images must be clearly identified as coming from www.AntWeb.org, with a backward link to the respective source page. See How to Cite AntWeb. Antweb is funded from private donations and from grants from the National Science Foundation, DEB-0344731, EF-0431330 and DEB-0842395. Deutsch | English | suomi | français | македонски | Nederlands | português | português do Brasil | +/−
This file is licensed under the Creative Commons Attribution 4.0 International license. Attribution: The photographer and www.AntWeb.org You are free: to share – to copy, distribute and transmit the work to remix – to adapt the work Under the following conditions: attribution – You must attribute the work in the manner specified by the author or licensor (but not in any way that suggests that they endorse you or your use of the work). http://creativecommons.org/licenses/by/4.0 CC BY 4.0 Creative Commons Attribution 4.0 truetrue
Included On The Following Pages:
This image is not featured in any collections.
Source Information
source

AntWeb.org

source

AntWeb
original

partner site

ID

8119050