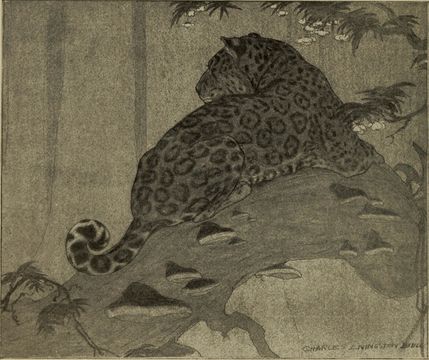 Description:

Identifier: outing55newy (find matches)
Title: Outing
Year: 1885 (1880s)
Authors:
Subjects: Leisure Sports Travel
Publisher: (New York : Outing Pub. Co.)
Contributing Library: Tisch Library
Digitizing Sponsor: Boston Library Consortium Member Libraries

View Book Page: Book Viewer
About This Book: Catalog Entry
View All Images: All Images From Book
Click here to view book online to see this illustration in context in a browseable online version of this book.

Text Appearing Before Image:
'
Text Appearing After Image:
AWAY DOWN THE TRAIL SHE HEARD MANY LITTLE HOOF-BEATS. growled and bristled bravely in theircorner, but their bravado w7as of noavail. The big snake paused, drew back itshead, and formed into a great coil. Sud-denly, with a motion so swift that no eyecould follow it, the flat head dartedforward and back, and there was butone kitten cowering in the darkness.The other was a shapeless mass beneaththe folds of the great body. The tragedy was mercifully swift.The other kitten followed the first, andsometime after, the great snake left theden and, slowly returning to the river,slid quietly in, swam across, and creptunder the overhanging roots of a greattree growing on the brink, where itcoiled up and fell into that dormant,full-fed torpor which is as near to sleepas the unwinking reptiles can approach. All the while far down the river themother jaguar hunted silently throughthe night but without success. At dawn she came near the little knoll and a lightbreeze carried the odor of the tapirs

Note About Images
Please note that these images are extracted from scanned page images that may have been digitally enhanced for readability - coloration and appearance of these illustrations may not perfectly resemble the original work.
Included On The Following Pages:
This image is not featured in any collections.
Source Information
creator

Internet Archive Book Images
original

partner site

ID

43626858