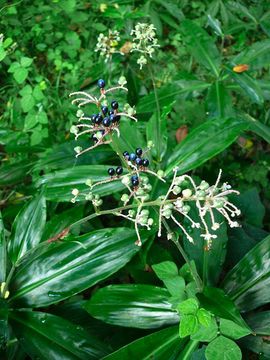 Description:
Summary[edit] Title 日本語: ヤブミョウガ (Pollia japonica) Description English: fruits ripely (purple) and unripely (green). 日本語: 実 Depicted place English: Higashitakane Shinrin-koen (forest park), Shiboku-honcho Miyamae Kawasaki Kanagawa Japan. 日本語: æ±é«˜æ ¹æ£®æž—å…¬åœ'(神奈川県川崎å¸'宮前区神木本ç"ºï¼‰ Date 15 September 2007 Photographer ISAKA Yoji ( cory )
[ Recent works / Other works ] Notes Wikispecies has an entry on: Pollia japonica. English: combined color profie. 日本語: Web ç"¨ã«è‰²æƒ…å ±ã''統合してã'ã'Šã¾ã™ã€' Source http://kimagurenote.net/ Permission
(Reusing this file) It's cory's work. You can use it outside Wikimedia under the following license without contact me. Have fun! Or have a impression? → take a note.
この画像に関するご感想はノートへ、お問い合わせ(日本語のみ)はこちらへ。 Other versions Image:Yabumyoga_07c4477.jpg - 群生 gregariously Image:Yabumyoga_07c4479.jpg - 若い実 unripe fruits Image:Yabumyoga_07h6821c.jpg - 花 flower, w/Episyrphus balteatus Image:Yabumyoga_07h6827.jpg - 実 fruits
Included On The Following Pages:
This image is not featured in any collections.
Source Information
license

copyright

Cory|cc-by-2.1-jp|BSD|GFDL|migration=relicense
creator

Cory|cc-by-2.1-jp|BSD|GFDL|migration=relicense

source

http://kimagurenote.net/

photographer

ISAKA Yoji (
original

partner site

ID

2765079