Acinetobacter baumannii, SEM, 9330 lores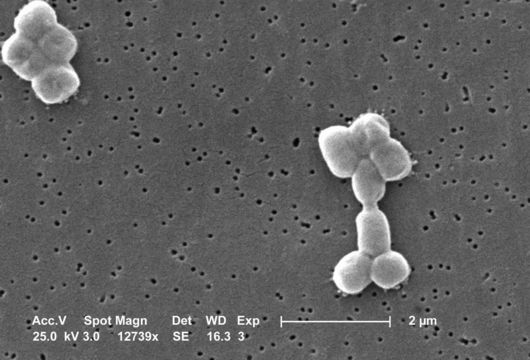 Description:
DescriptionAPI ID#: 9330 Description: This SEM depicts a couple of clusters of aerobic Gram-negative, non-motile Acinetobacter baumannii bacteria as seen under a magnification of 12,739x. Members of the genus Acinetobacter are nonmotile rods, 1-1.5µm in diameter, and 1.5-2.5µm in length, becoming spherical in shape while in their stationary phase of growth. This bacteria is oxidase-negative, and therefore, does not utilize oxygen for energy production. They also occur in pairs under magnification. Acinetobacter spp. are widely distributed in nature, and are normal flora on the skin. Some members of the genus are important because they are an emerging cause of hospital acquired pulmonary, i.e., pneumoniae, hemopathic, and wound infections. Because the organism has developed substantial antimicrobial resistance, treatment of infections attributed to A. baumannii has become increasingly difficult, whereupon, the only drug that works on multi-resistant strains is colistin, which is a very toxic antibiotic. Content Providers(s): CDC/ Janice Carr Copyright Restrictions: None - This image is in the public domain and thus free of any copyright restrictions. As a matter of courtesy we request that the content provider be credited and notified in any public or private usage of this image. Date Creation Date: 2007 Source http://phil.cdc.gov/PHIL_Images/9330/9330_lores.jpg Author Photo Credit: Janice Carr Permission
(Reusing this file) PD
Included On The Following Pages:
This image is not featured in any collections.
Source Information
creator

Photo Credit:Janice Carr

source

http://phil.cdc.gov/PHIL_Images/9330/9330_lores.jpg
original

partner site

ID

1547686