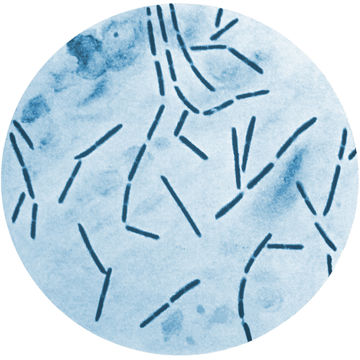 Description:
Summary[edit] DescriptionAPI English: This illustration depicts a photomicrographic view of a methylene blue-stained culture specimen revealing the presence of numerous Clostridium septicum bacteria. Deutsch: Dieses Bild stellt das Mikroskopfoto einer mit Methylenblau angefärbten Kultur dar, dabei lassen sich zahlreiche Clostridium septicum Bakterienzellen erkennen. Date 1979 Source This media comes from the Centers for Disease Control and Prevention's Public Health Image Library (PHIL), with identification number #14347. Note: Not all PHIL images are public domain; be sure to check copyright status and credit authors and content providers. English | Slovenščina | +/− Author Content Providers(s): CDC Permission
(Reusing this file) PD-USGov-HHS-CDC English: Copyright Restrictions: None - This image is in the public domain and thus free of any copyright restrictions. As a matter of courtesy we request that the content provider be credited and notified in any public or private usage of this image. cropped Licensing[edit] Public domainPublic domainfalsefalse This image is a work of the Centers for Disease Control and Prevention, part of the United States Department of Health and Human Services, taken or made as part of an employee's official duties. As a work of the U.S. federal government, the image is in the public domain. čeština | Deutsch | English | español | eesti | suomi | français | italiano | македонски | Nederlands | polski | português | slovenščina | українська | 中文 | 中文(简体)‎ | 中文(繁體)‎ | +/−
Included On The Following Pages:
This image is not featured in any collections.
Source Information
creator

Content Providers(s): CDC

source

This media comes from the Centers for Disease Control and Prevention's Public Health Image Library (PHIL), with identification number #14347. Note: Not all PHIL images are public domain; be sure to check copyright status and credit authors and content providers. English | Slovenščina | +/−
original

partner site

ID

27675514