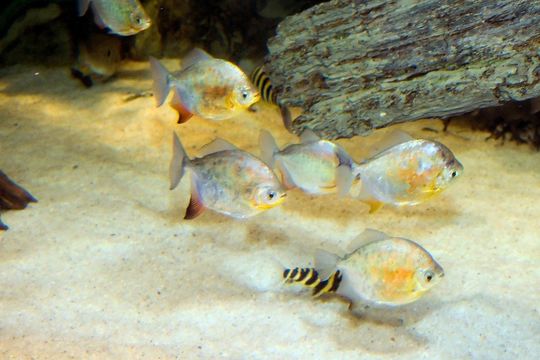 Description:
Summary[edit] DescriptionAPI English: Location taken: National Aquarium in Baltimore, Baltimore MD.. Names: Myloplus rubripinnis (Müller & Troschel, 1844), Be agba, Gancho rojo, Garopa, Haken Scheibensalmler, Haken-Scheibensalmler, Kambai, Kumaru, Kurudi, Kuruhuara de aleta anal roja, Mab, Mabé, Mambe, Pacoucine, Pacoutane, Pacoutann, Pacu, Pacu branco, Pacu de corredeira, Pacu tinga, Pacuzinho, Pakoesi, Pakouchi, Pakousi, Pakousin, Palometa, Palometa kuruhuara, Pampano, Pasina Tanakem, Pasina Tikolokem, Poukoupitane, Redhead Goby, Redhook Characin, Redhook Metynnis, Redhook Myleus, Redhook Silver Dollar, Rødfinnet Skivekarpelaks, Sardinita, Tähtilevytetra, Yapinan, ปลาเรดฮุก, 紅翅鋸腹脂鯉, 红翅锯腹脂 Classification: Animalia > Chordata > Actinopterygii > Characiformes >Serrasalmidae > Myloplus > Myloplus rubripinnis. Date 31 May 2007 Source source: David Stang. First published at ZipcodeZoo.com Author Photo by David J. Stang
Included On The Following Pages:
This image is not featured in any collections.
Source Information
license

copyright

Photo by David J. Stang
creator

Photo by David J. Stang

source

source: David Stang. First published at ZipcodeZoo.com
original

partner site

ID

63173844