Mantidactylus grandisonae map-fr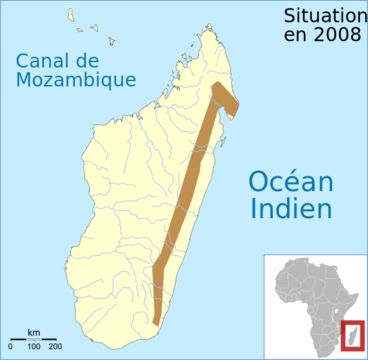 Description:
Summary[edit] DescriptionAPI Français : Aire de répartition de l'espèce d'amphibien Mantidactylus grandisonae Date 4 December 2008 Source travail personnel (own work). Source : Background map : Image:Madagascar_range_map_template.svg by Visionholder under licence GFDL Data from this map from the International Union for Conservation of Nature and Natural Resources red list website. http://berkeleymapper.berkeley.edu/ Author Givet
Camera location 20° 00′ 00″ S, 47° 00′ 00″ E View all coordinates using: OpenStreetMap - Google Earth -20.000000; 47.000000 This map was improved or created by the Wikigraphists of the Graphic Lab (fr). You can propose images to clean up, improve, create or translate as well. This SVG file uses embedded text that can be translated into your language using an SVG editor such as Inkscape or Adobe Illustrator. Learn more. You can also download it and translate it manually using a text editor. This vector image was created with Inkscape.
Included On The Following Pages:
This image is not featured in any collections.
Source Information
original

partner site

ID

5365033