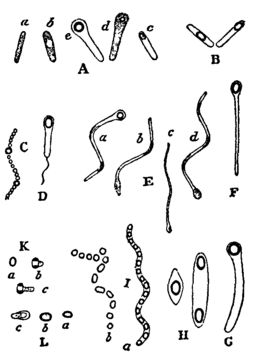 Description:
Summary[edit] DescriptionAPI English: Illustration from 1911 Encyclopædia Britannica, article BACTERIOLOGY. Fig. 4.—Types of Spore-formation in Schizomycetes. (After Zopf.) A. Various stages in the development of the endogenous spores in a Clostridium—the small letters indicate the order. B. Endogenous spores of the hay bacillus. C. A chain of cocci of Leuconostoc mesenterioides, with two "resting spores," i.e. arthrospores. (After van Tieghem.) D. A motile rodlet with one cilium and with a spore formed inside. E. Spore-formation in Vibrio-like (c) and Spirillum-like (a b, a) Schizomycetes. F. Long rod-like form containing a spore (these are the so-called "Köpfchenbacterien" of German authors). G. Vibrio form with spore. (After Prazmowski.) H. Clostridium—one cell contains two spores. (After Prazmowski.) I. Spirillum containing many spores (a), which are liberated at b by the breaking up of the parent cells. K. Germination of the spore of the hay bacillus (B. subtilis)—the axis of growth of the germinal rodlet is at right angles to the long axis of the spore. L. Germination of spore of Clostridium butyricum—the axis of growth coincides with the long axis of the spore. Date 1911 Source Encyclopædia Britannica, 1911 Author Project Gutenberg Distributed Proofreaders
Included On The Following Pages:
This image is not featured in any collections.
Source Information
original

partner site

ID

5223589