Nieuhof-Ambassade-vers-la-Chine-1665 0733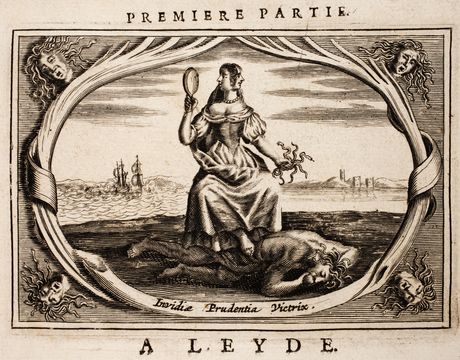 Description:
Summary[edit] DescriptionAPI Nederlands: Titelpagina. Gravure. Allegorie. Dame met twee gezichten (Januskop) kijkt in de spiegel met een slangster (?) in de hand en zit op slapende wildeman aan de kust. Onderschrift: Invidiae prudentia victrix = Voorzichtigheid verslaat afgunst. English: Title page. Engraving. Allegory. Woman with two faces (Janushead) looks in a mirror with a brittle star (?) in hand. She is sitting on a sleeping savage. Caption: Invidiae prudentia victrix = Prudence conquers jealousy. Date 1665 Source Johan Nieuhof (1618–1672) Alternative names Johannes Nieuhof, Joan Nieuhof, Johann Nieuwhof Description Dutch writer, sinologist, explorer and draughtsman Date of birth/death 22 July 1618 8 October 1672 Location of birth/death Uelsen Madagascar Authority control : Q1123800 VIAF: 32201983 ISNI: 0000 0001 0885 4885 ULAN: 500354409 LCCN: n85057299 GND: 118511157 WorldCat Johan Nieuhof (1618-1672); Jean-Baptiste Le Carpentier (1606-ca. 1670): L'ambassade de la Compagnie Orientale des Provinces Unies vers l'Empereur de la Chine, ou Grand Cam de Tartarie, faite par les Srs. Pierre de Goyer, & Jacob de Keyser, illustrée d'une tres-exacte description ... de la Chine: enrichie d'un grand nombre de tailles douces / Le tout recueilli par le Mr. Jean Nieuhoff, ... ; mis en françois, orné, & assorti de mille belles particularitez ... par Jean le Carpentier, historiographe. Publisher: A Leyde pour Jacob de Meurs, marchand libraire & graveur de la ville d'Amsterdam. Printer: Meurs, Jacob van Amsterdam, 1651-1680 Peace Palace Library Native name Bibliotheek van het Vredespaleis Location The Hague Coordinates 52° 05′ 12″ N, 4° 17′ 44″ E Established 1913 Website ppl.nl Authority control : Q3046797 VIAF: 135721970 ISNI: 0000 0001 2290 4551 LCCN: n50053119 SUDOC: 029342007 BNF: 120988740 WorldCat Link to signature in catalogue Author Drawing: . Engraving: Jacob van Meurs (1619–1680) Alternative names Jacob van Meurs (I), Jacobus van Meurs Description Dutch printmaker and publisher Date of birth/death circa 1619-1620 before 20 May 1680 Location of birth/death Arnhem Amsterdam Work period Haarlem (1638), Amsterdam (1649-1675) Work location Keizersgracht Authority control : Q17351358 VIAF: 95856170 ISNI: 0000 0000 8078 2620 ULAN: 500028265 LCCN: n79120697 GND: 123414245 WorldCat Photography: D-vorm, Bert en Lilian Mellink
Included On The Following Pages:
This image is not featured in any collections.
Source Information
original

partner site

ID

32680809