Lieux pontes tortue ecaille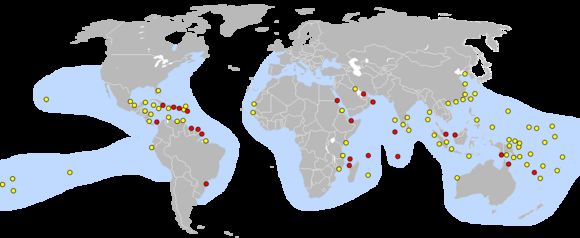 Description:
DescriptionAPI Français : Lieux de pontes de tortues à écailles : point rouge=lieux de pontes principaux, point jaune=lieux de pontes. English: Nesting location of Hawksbill sea Turtle : red dot = major nesting locations, yellow dot=minor nesting locations Date 5 June 2007 Source own work from Inscape, with [1] Author Pinpin This vector image was created with Inkscape. This map was improved or created by the Wikigraphists of the Graphic Lab (fr). You can propose images to clean up, improve, create or translate as well.
Licensing[edit] I, the copyright holder of this work, hereby publish it under the following licenses: Permission is granted to copy, distribute and/or modify this document under the terms of the GNU Free Documentation License, Version 1.2 or any later version published by the Free Software Foundation; with no Invariant Sections, no Front-Cover Texts, and no Back-Cover Texts. A copy of the license is included in the section entitled GNU Free Documentation License.http://www.gnu.org/copyleft/fdl.htmlGFDLGNU Free Documentation Licensetruetrue
This file is licensed under the Creative Commons Attribution-Share Alike 3.0 Unported, 2.5 Generic, 2.0 Generic and 1.0 Generic license. https://creativecommons.org/licenses/by-sa/3.0 CC BY-SA 3.0 Creative Commons Attribution-Share Alike 3.0 truetrue You may select the license of your choice.
Included On The Following Pages:
Content Not In Any Collection Map Image
Source Information
creator

Pinpin

source

own work from Inscape, with [1]
original

partner site

ID

2206225