Madoryx plutonius plutonius MHNT CUT 2010 0 161 El Dorado Venezuela male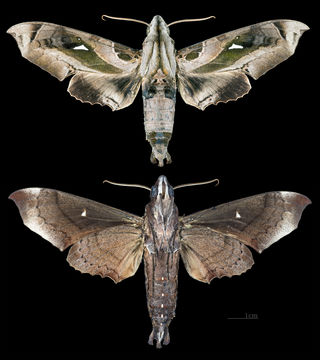 Description:
Madoryx plutonius plutonius (Hübner 1819) Description Deutsch: Madoryx plutonius - Zwei Ansichten des gleichen Exemplars Sammlung des Mathematikers Laurent Schwartz English: Madoryx plutonius - Two views of same specimen Collection of the Mathematician Laurent Schwartz Français: Madoryx plutonius - Deux vues du même spécimen Collection du mathématicien Laurent Schwartz Gender Male Place of discovery Deutsch: El Dorado, Venezuela English: El Dorado, Venezuela Français: El Dorado, Venezuela Date Taken on 20 September 2017 Photographer Didier Descouens Institution Museum of Toulouse Native name Muséum de Toulouse Location Toulouse, France Coordinates 43° 35′ 38″ N, 1° 26′ 57″ E Established 1796: established ; 1865: opened to public Website www.museum.toulouse.fr Authority control : Q422 VIAF: 130895847 ISNI: 0000 0001 2158 3469 SUDOC: 028667107 BNF: 120455376 Museofile: M7013 Accession number MHNT Cut 2010 0 161 Source Own work Permission
(Reusing this file)
This file is licensed under the Creative Commons Attribution-Share Alike 4.0 International license. https://creativecommons.org/licenses/by-sa/4.0 CC BY-SA 4.0 Creative Commons Attribution-Share Alike 4.0 truetrue Other versions Both sides dorsal ventral Processing Focus stacking of 4 pictures. Camera location 43° 35′ 38.03″ N, 1° 26′ 57.23″ E View all coordinates using: OpenStreetMap - Google Earth 43.593897; 1.449230 This document was made as part of the Projet Phoebus. беларуская (тарашкевіца)‎ | English | español | français | magyar | italiano | македонски | മലയാളം | Nederlands | polski | português | svenska | Türkçe | українська | +/−
Included On The Following Pages:
This image is not featured in any collections.
Source Information
license

copyright

Didier Descouens
creator

Didier Descouens

photographer

Didier Descouens
original

partner site

ID

63053961