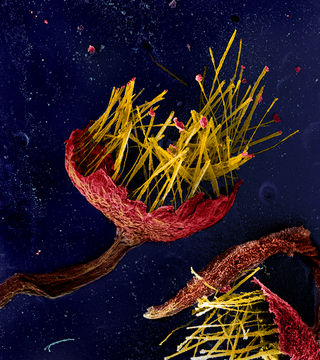 Description:
Summary[edit] DescriptionAPI Українська: Плодові тіла міксоміцета Alwisia lloydiae з острова Тасманія напрочуд елегантні. Усередині вони утворюють трубчасті елементи, що називаються капіліцієм (жовтий). Міксоміцети – гігантські амеби, здатні утворювати грибоподібні плодоношення. Мікрофотографія виконана за допомогою растрового електронного мікроскопу, кольори одержані засобами комп'ютерної графіки. Збільшення х50 English: Fruiting bodies of the myxomycete Alwisia lloydiae from Tasmania are rather elegant. Inside of them the tubules of capillitium (yellow) is formed. Myxomycetes are giant amoebae, capable to form fungi-like fruiting. Microphotograph is made with scanning electronic microscope and coloured with the computer graphic tools. Magnification x50 Русский: Плодовые тела миксомицета Alwisia lloydiae с острова Тасмания удивительно элегантные. Внутри они образуют трубчатые элементы, называемые капиллицием (отмечены жёлтым). Миксомицеты – гигантские амёбы, способные образовывать грибовидные плодоношения. Микрофотография выполнена с помощью сканирующего электронного микроскопа, цвета добавлены средствами компьютерной графики. Увеличение х50 Date 29 April 2014, 14:16:30 Source Own work Author Дмитро Леонтьєв
Included On The Following Pages:
This image is not featured in any collections.
Source Information
license

copyright

Дмитро Леонтьєв
original

partner site

ID

44596510