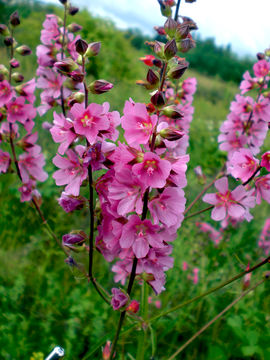 Description:
Summary[edit] DescriptionAPI Scientific name: Sidalcea cusickii Common name: Cusick's Checkermallow Spring is here and the flowers are in full bloom at one of Oregon's natural gems. Located on the western edge of Eugene, Oregon, the West Eugene Wetlands (WEW) is a beautiful and rare area of grassland habitats. Comprised of less than one percent of the original native wet prairie, the WEW is home to over 200 species of wildflowers, plants, birds, and animals, including four threatened and endangered species: Fender's blue butterfly, Kincaid's lupine, Bradshaw's lomatium, and Willamette daisy. The BLM's Eugene District, in collaboration with other Rivers to Ridges partners, works to protect and restore this vital wetland ecosystem in the Southern Willamette Valley. This unique project involves federal, state, and local agencies, as well as non-profit organizations, working together to manage lands and resources in an urban area for multiple public benefits. Each year, Willamette Resources & Educational Network (WREN) provides hands-on, minds-on environmental education to over 1,500 local students. Photo credits: Christine Williams, Mackenzie Cowan, Sandra Miles, Sally Villegas, and West Eugene Wetlands staff. For directions or to plan a visit to the West Eugene Wetlands: on.doi.gov/10IIPkt Date 3 July 2012, 08:47:38 Source Flickr: Sidalcea cusickii Author Bureau of Land Management Bureau of Land Management Permission
(Reusing this file) This image, which was originally posted to Flickr, was uploaded to Commons using Flickr upload bot on 18 May 2013, 07:57 by Melchoir. On that date, it was confirmed to be licensed under the terms of the license indicated.

This file is licensed under the Creative Commons Attribution-Share Alike 2.0 Generic license. https://creativecommons.org/licenses/by-sa/2.0 CC BY-SA 2.0 Creative Commons Attribution-Share Alike 2.0 truetrue Public domainPublic domainfalsefalse This image is a work of a Bureau of Land Management* employee, taken or made as part of that person's official duties. As a work of the U.S. federal government, the image is in the public domain in the United States.
*or predecessor organization
Taxon Links
Included On The Following Pages:
This image is not featured in any collections.
Source Information
license

copyright

licensed media from Wikimedia Commons in DwCA without owner
original

partner site

ID

26150438