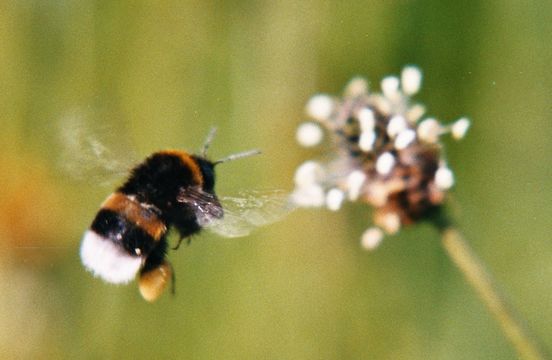 Description:
Summary[edit] DescriptionAPI Deutsch: Erdhummel (Bombus spec.) mit Pollenhöschen im Anflug auf eine Spitzwegerichblüte (Plantago lanceolata)
Sehr ws. Bombus lucorum siehe http://offene-naturfuehrer.de/web/Hummelschlüssel English: Bombus spec. (cf. Bombus lucorum) with pollen baskets (corbiculae) flying onto a Plantago lanceolata Español: Un tipo de abejorro en vuelo Date Unknown date Source selbst fotografiert von Christian Stamm Author Christian Stamm (Schizoschaf) Permission
(Reusing this file) GFDL Other versions copied from de.wikipedia [1] 00:56, 6. Jul 2004 . . Schizoschaf . . 920 x 600 (437.191 Byte) 13:07, 25. Jun 2004 . . Schizoschaf . . 460 x 300 (35.464 Byte) (the first version was not transferred, same image, only much smaller) Schizoschaf at the German language Wikipedia, the copyright holder of this work, hereby publishes it under the following license: Permission is granted to copy, distribute and/or modify this document under the terms of the GNU Free Documentation License, Version 1.2 or any later version published by the Free Software Foundation; with no Invariant Sections, no Front-Cover Texts, and no Back-Cover Texts. A copy of the license is included in the section entitled GNU Free Documentation License.http://www.gnu.org/copyleft/fdl.htmlGFDLGNU Free Documentation Licensetruetrue
This file is licensed under the Creative Commons Attribution-Share Alike 3.0 Unported license. Attribution: Schizoschaf at the German language Wikipedia This licensing tag was added to this file as part of the GFDL licensing update.http://creativecommons.org/licenses/by-sa/3.0/CC-BY-SA-3.0Creative Commons Attribution-Share Alike 3.0truetrue
Included On The Following Pages:
This image is not featured in any collections.
Source Information
original

partner site

ID

817523