Ascophyllum nodosum distribution map-fr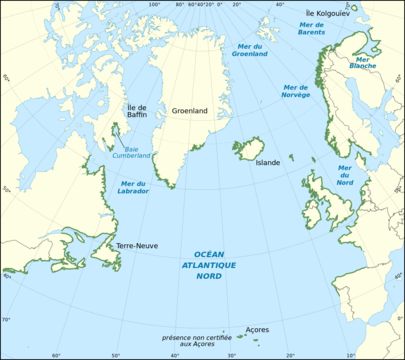 Description:
Summary[edit] DescriptionAPI English: Map of hte geographical distribution of the Ascophyllum nodosum, a common brown algae. Français : Carte de la distribution géographique du Goémon noir (Ascophyllum nodosum),une espèce d'algue de la classe des Phaeophyceae.
Azimuthal equidistant projection; WGS84 datum
central meridian: 35° W
central parallel: 55° N
Scale of the background map: 1:4,000,000 (precision: 1 km) Date January 2011 Source Own work
Sources used:
NGDC World Coast Line (public domain)
Reference for the geographical distribution: T. Belsher Étude bibliographique de quelques espèces planctoniques et benthiques de la Manche, vol. 4, 1986, IFREMER/EDF Author Eric Gaba (Sting - fr:Sting) Permission
(Reusing this file) Attribution and Share-Alike required Any use of this map can be made as long as you credit me (Eric Gaba – Wikimedia Commons user: Sting) as the author and distribute the copies and derivative works under the same license(s) that the one(s) stated below. A message with a reply address would also be greatly appreciated. Other versions Camera location 55° 00′ 00″ N, 20° 00′ 00″ W View all coordinates using: OpenStreetMap - Google Earth 55.000000; -20.000000 This map was improved or created by the Wikigraphists of the Graphic Lab (fr). You can propose images to clean up, improve, create or translate as well. This SVG file uses embedded text that can be translated into your language using an SVG editor such as Inkscape or Adobe Illustrator. Learn more. You can also download it and translate it manually using a text editor.
Included On The Following Pages:
Content Not In Any Collection Map Image
Source Information
license

copyright

Eric Gaba (Sting - fr:Sting)
creator

Eric Gaba (Sting - fr:Sting)

source

Own work
original

partner site

ID

12572472