Distribution of Russula solaris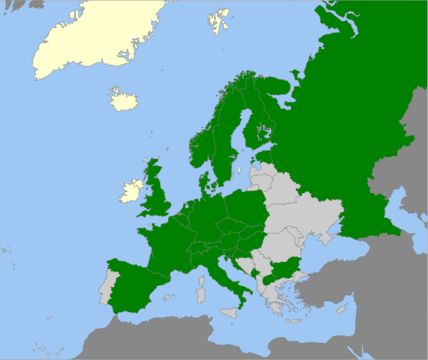 Description:
DescriptionAPI English: Distribution of Russula solaris in Europe. References Basidiomycota Checklist-Online - Russula solaris. basidiochecklist.info. Retrieved on 6 October 2012. Belgian List 2012 -Russula solaris. Retrieved on 6 October 2012. Cvetomir M. Denchev & Boris Assyov (2010). "Checklist of the larger basidiomycetes in Bulgaria" (pdf). Mycotaxon'mycotaxon.com 111: 279–282. ISSN 0093-4666. Z. Tkalcec & A. Mešic (2003). "Preliminary checklist of Agaricales from Croatia V: Families Crepidotaceae, Russulaceae and Strophariaceae". Mycotaxon 88: 293. ISSN 0093-4666. Estonian eBiodiversity Species description Russula solaris. elurikkus.ut.ee. Retrieved on 6 October 2012. (in finnish) (2005) SY769 Suomen helttasienten ja tattien ekologia, levinneisyys ja uhanalaisuus (PDF) Retrieved on 6 October 2012. ISBN: 952-11-1997-7. Weltweite Verbreitung von Russula solaris. GBIF Portal / data.gbif.org. Retrieved on 6 October 2012. Montenegro * Gordana Kasom & Mitko Karadelev (2012). "Survey of the family Russulaceae (Agaricomycetes, Fungi) in Montenegro" (pdf). Acta Botanica Croatica'versita.metapress.com 71: 1-14. ISSN 0365-0588. Russula solaris in the Pilzoek-Database (in German). Retrieved on 6 October 2012.
Deutsch: Verbreitung des Sonnen-Täublings in Europa Date 6 October 2012 Source Blank_Map_of_Europe_-w_boundaries.svg (modified) Author Thkgk
Included On The Following Pages:
This image is not featured in any collections.
Source Information
original

partner site

ID

21930052