The royal natural history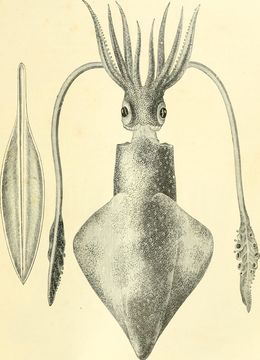 Description:
Common squid (Loligo vulgaris) Identifier: royalnaturalhist612lyde (find matches)
Title: The royal natural history
Year: 1893 (1890s)
Authors: Lydekker, Richard, 1849-1915 Sclater, Philip Lutley, 1829-1913 Frostick, W. B., former owner. DSI Brooks, W. T., former owner. DSI
Subjects: Zoology Natural history
Publisher: London and New York : Frederick Warne & Co.
Contributing Library: Smithsonian Libraries
Digitizing Sponsor: Smithsonian Libraries

View Book Page: Book Viewer
About This Book: Catalog Entry
View All Images: All Images From Book
Click here to view book online to see this illustration in context in a browseable online version of this book.

Text Appearing Before Image:
was brought ashore at St. Johns, Newfoundland, bysome fishermen, who captured it in their herring-nets. It was more or lessmutilated in the capture, but the following measurements were taken from theparts preserved. Body 7 feet long, tail-fin 22 inches broad, tentacular arms 24 feetin length, short or sessile arms 6 feet long, some of them being as 10 inches roundat the base. Particulars of several other specimens of gigantic squids, varyingin total length from 30 to 52 feet, and also taken near Newfoundland, have beenrecorded ; the estimated weight of one of these being 1000 lbs. On the 24th of April 1875 a large calamary was met with off Boffin Island,on the Irish coast. The crew of a currah observed to seaward a large floatingmass. They pulled out to it, believing it to be a wreck, but found it was an CEPHALOPODS. 535 enormous cuttle-fish, lying perfectly still, as if basking on the surface of the water.Paddling up, they lopped off one of its arms. The animal immediately set out to
Text Appearing After Image:
COMMON SQUID, WITH PEN ON THE LEFT (nat. Size). sea, rushing through the water at a tremendous pace. The men gave chase, and,after a hard pull, came up with it, five miles out in the Atlantic, and severed 336 MOLLUSCS. another of its arms and the head. The shorter arms measured each 8 feet inlength, and 15 inches round the base; the tentacular arms are said to have been30 feet long. A single arm of a large squid, supposed to have been found off thecoast of South America, is 9 feet long and 11 inches round the base, and has tworows of suckers, with toothed, horny rings, each row consisting of one hundredand fifty suckers. The largest of these rings is half an inch in diameter, whereasthe smallest, near the tapering end of the arm, is only about the size of a pinshead. Judging by other specimens, it is probable that this creature must have hada body 10 or 12 feet in length, with tentacles over 30 feet long. Some portions of a remarkable gigantic cephalopod were obtained by thePrince of

Note About Images
Please note that these images are extracted from scanned page images that may have been digitally enhanced for readability - coloration and appearance of these illustrations may not perfectly resemble the original work.
Included On The Following Pages:
This image is not featured in any collections.
Source Information
creator

Internet Archive Book Images
original

partner site

ID

43618447