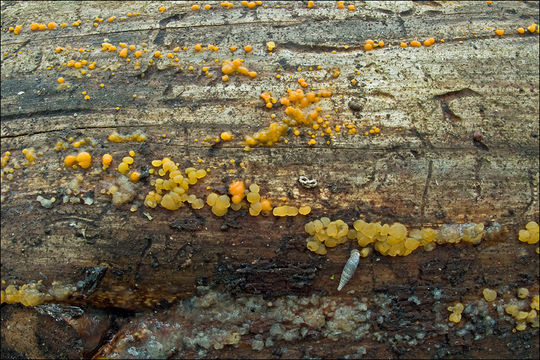 Description:
Dacrymyces stillatusCommon Jelly Spot Slo.: kapljasta solzevka Dat.: Mar. 18. 2011Lat.: 46.33874 Long.: 13.54088Code: Bot_496/2011_DSC6651 Habitat: : South oriented mountain slope, mixed forest, dominant Fagus sylvatica, Acer, Picea abies and other hardwood trees, calcareous ground, mostly in shade, partly protected from direct rain by tree canopies, average precipitations ~ 3.000 mm/year, average temperature 8-10 deg C, elevation 510 m (1.670 feet), alpine phytogeographical region.Substratum: dead quite disintegrated debarked large trunk of Picea abies.Place: Bovec basin, south of the road from Bovec to village Pluna, near Uje place, East Julian Alps, Posoje, Slovenia EC Comments: characteristic forked basidia abundant. Spores smooth, septated. Dimensions: 14.9 (SD = 0.8) x 5.5 (SD = 0.3) , Q = 2.7 (SD = 0.19), n = 28. Motic B2-211A, magnification 1.000 x, oil, in water. Ref.:(1) S.Buczacki, Collins Fungi Guide, Collins (2012), p 596. 14-17/5-6(2) www.rogersmushrooms.com/gallery/DisplayBlock~bid~5676~gid... 12-15/5-6(3) www.mykoweb.com/CAF/species/Dacrymyces_stillatus.html 14-16 x 4.5-6 (4) M.Bon, Parey's Buch der Pilze, Kosmos (2005), p 324. 10-15/3-5
Included On The Following Pages:
This image is not featured in any collections.
Source Information
license

copyright

Amadej Trnkoczy
original

partner site

ID

8491985127