Anacamptis morio (4810' N 1629' E)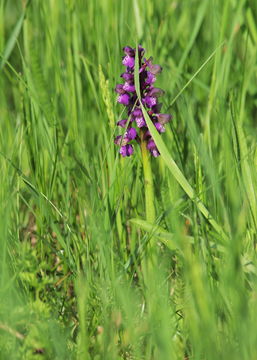 Description:
2011-04-21 Vienna XXII. district (Neue Donau, dam on left river side, 158 msm Quadrant 7864/2).German name: Klein-Hundswurz, Kleines KnabenkrautThe orchid as such is not so very much special - actually it is the most common orchid in near Danube National Park, a couple of hundreds metres distant from there, as the crow flies; the place where it grew however is: it is a nutrient-richt meadow (as indicated by the massive presence of Taraxacum officinale agg.).Obviously, on this place - exposed to the south, and on the top of the dam - soil is nutrient-poor enough for this orchid to survive, and actually this specimen is rather big for its kind, so it seems to feel at home there.However, it has little chance of surviving there in the long run: first and foremost it is the only one growing there, and also this meadow is mown rather often for the benefit of thousands of sunbathers who will arrive soon. I fear that the meadow is due to be mown soon, which would mean the end of this one.Obviously, it still could survive this for this year, and possibly some more years to follow, but in the long run it could and, sadly, should finish it.
Included On The Following Pages:
This image is not featured in any collections.
Source Information
license

copyright

HermannFalkner/sokol
original

partner site

ID

5641235718