TRACHELIUS OVUM UN RINOCERONTE CILIADO? ** / ** IS TRACHELIUS OVUM PERHAPS A CILIATED RHINOCEROS?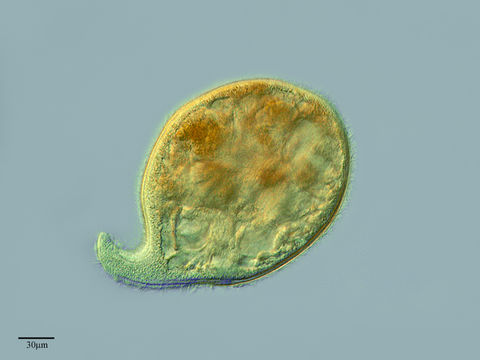 Description:
Hay ciliados, que, en abstracto, se pueden comparar a los animales que todos conocemos, con los fcilmente identificables que aparecen y son protagonistas de cuentos y fbulas. Algunos lentos como tortugas, otros pequeos y saltarines recuerdan a las pulgas y el de hoy, si considersemos al gran Dileptus como un elefante, ste, Trachelius, sera un rinoceronte. De cuerpo rechoncho y con una especie de cuerno en su extremo, este ciliado recorre la sabana de algas para conseguir su pasto vegetal, pero no lo hace de cualquier manera porque ese cuerno-trompa lo desequilibra y, as, cuando quiere embestir, en vez de hacerlo de forma recta, su trayectoria se tuerce inevitablemente y acaba siendo circular y de este modo, Trachelius , una y otra vez va dibujando con rapidez la estela de espirales y ms espirales en el agua. No lo hace por arte, lo hace interesadamente y de manera muy eficiente, pues en estos giros sin fin, va atrapando con su boca, situada junto a la base de su cuerno, algas y restos vegetales. Son tantos los que consigue que su interior est repleto de vacuolas enormes que parece que van a provocar que estalleNo ser as, llegado el momento, antes de que el globo de su cuerpo explote, las vaciar fuera liberndose de una buena parte de su carga.Trachelius ovum se encuentra en aguas cargadas de materia orgnica y busca refugio y alimento entre las algas filamentosas, sus cilios son cortos y en su interior se encuentran varias vacuolas contrctiles. La fotografa de hoy procede de una muestra tomada ayer en el pantano de la Grajera, junto a Logroo. Trachelius ovum ha sido fotografiado con 400 aumentos empleando la tcnica de contraste de interferencia.Con nuestra gratitud para Antonio Martnez Ron por la resea incluida en su excelente blog Fogonazos de nuestra galera...y tambin a Paul por su referencia en www.dataisnature.com/ y por su magnfica galeraPuedes tener otra infomacin en la exposicin LA VIDA OCULTA DEL AGUAY en este catlogoTambin en la galera de FotologY nuestro granito de arena por la Paz**********************************There are ciliates which, from an abstract point of view, can be compared to the animals we all know, those we can easily recognize in childrens stories and fables. Some of them move slowly like turtles, some remind us of tiny and leaping fleas while others, such as the Trachelius we are observing today, makes us think of a rhinoceros, the same way as the great Dileptus could be seen as a big elephant. This ciliate moves around the savannah of algae with its plumpy round body and a long snout at its end, looking for some vegetal pasture. But this is not an easy task because this horn-snout unbalances it in such a way that, every time it wants to attack, it is unable to follow a straight line. Hopelessly, this deviates Trachelius from its trajectory and it finally moves itself in endless circles, originating a continuous whirl in the water. Trachelius doesnt provoke this movement for the fun of it but there is an interest behind so it performs it in a very efficient manner. These endless spins are the best way to sweep algae and vegetal scraps with its mouth, which is located at the base of the snout. The amount of food is such that its interior is full of enormous vacuoles that seem to explode at any time. But that will never happen at a precise moment, and before its balloon-like body explodes, it will empty its body freeing itself from a substantial part of its load. Trachelius ovum lives in waters rich in organic matter and looks for refuge and nutriment among filamentous algae; its cilium are short and it has several contractile vacuoles distributed throughout its interior. This picture is from a sample which was collected yesterday in a pond at La Grajera reservoir, near Logroo. The picture of Trachelius ovum was taken using 400x magnification and a differential interference contrast technique.We would like to express our gratitude to Antonio Martnez Ron for posting our photo stream in his excellent blog Fogonazos... and also to Paul for mentioning us in www.dataisnature.com/ as well as to congratulate him on his wonderful photographic gallery.For more information, please visit THE HIDDEN LIFE OF WATER And also this catalogueor our Fotolog galleryThis is our small contribution to Peace
Included On The Following Pages:
This image is not featured in any collections.
Source Information
license

copyright

Proyecto Agua
original

partner site

ID

3604665652