Garcinia atroviridis Griff. ex T.Anderson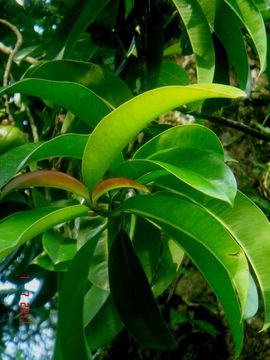 Description:
Bukit Tagar, Selangor, Malaysia.Garcinia atroviridis Griff. ex T.Anderson. Clusiaceae. CN: [Malay - Asam gelugur, Asam gelugo, Asam keping]. Native to India, Myanmar, Thailand, Malaysia. A large rainforest tree native to peninsular Malaysia. This species grows wild throughout peninsular Malaysia but is also widely cultivated owing to its economic and medicinal value. The Asam Gelugur tree grows to a height of more than 20m and has a long trunk, smooth grey bark and drooping branches. The leaves are dark green, shiny, long and narrow with a pointed tip and upturned edges. The flowers are dark red. The round fruits are borne singly on twig ends about 7 - 10 cm in diameter. The ripe fruits are bright orange yellow, which are sliced, dried and used in preparing local dishes. The fruit contains citric acids, such as tartaric, malic and ascorbic acids, hydroxycitric acid, and flavonoids. Asam fruit contains various forms of fruiting acids and has been used for centuries by the Malaysian villages as both a cooking ingredient and weight loss agent. The presence of hydrocitric acid has been proven scientifically to breakdown of excess body fats.Ref and suggested reading:www.ars-grin.gov/cgi-bin/npgs/html/taxon.pl?429725 en.wikipedia.org/wiki/Garcinia_atroviridis
Included On The Following Pages:
This image is not featured in any collections.
Source Information
license

copyright

Ahmad Fuad Morad
original

partner site

ID

5905998676