Chaetophora spinosa (Byrrhidae)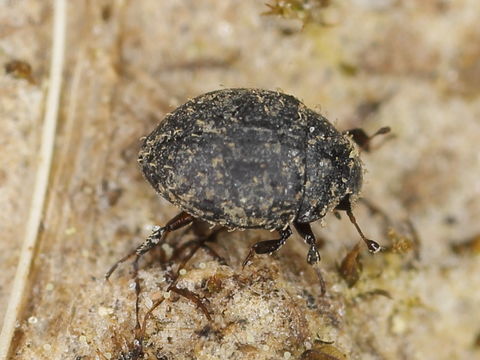 Description:
L: 1.2-1.5 mmbiology: feeds on moss and algae (Nostoc ?)habitat: ?Phylum: Arthropoda LATREILLE, 1829 (arthropods, Gliederfer)Subphylum: Hexapoda BLAINVILLE, 1816 (Sechsfer)Class:Insecta LINNAEUS, 1758 (insects, Insekten)Subclass: Pterygota LANG, 1888 (Fluginsekten)Infraclass: Neoptera MARTYNOV, 1923 (Neuflgler)Order: Coleoptera LINNAEUS, 1758 (beetles, Kfer)Suborder: Polyphaga EMERY, 1886Infraorder: Elateriformia CROWSON, 1960Superfamily: Byrrhoidea LATREILLE, 1804Family: Byrrhidae LATREILLE, 1804 (pill or moss beetles)Subfamily: Syncalyptinae MULSANT & REY, 1869Tribus: Syncalyptini MULSANT & REY, 1869Genus: Chaetophora KIRBY & SPENCE, 1823Chaetophora spinosa ROSSI, 1794[det. B. Bche, 2016, based on photos]KEY: docs.google.com/file/d/0BxY4LbM806l5VUI4cFRMLXZGZ1k/editSome info: www.markgtelfer.co.uk/beetles/byrrhidae-pill-beetles/Revision of the Genus: www.biolib.cz/en/taxon/id8221/Germany, Hesse, Kassel: Dnche, 180-250m asl., 05.05.2016_______________________________________________MP-E65mm, Macro Magnification - 2.4x, ring-flash, hand-heldIMG_7756
Included On The Following Pages:
This image is not featured in any collections.
Source Information
original

partner site

ID

28540620715