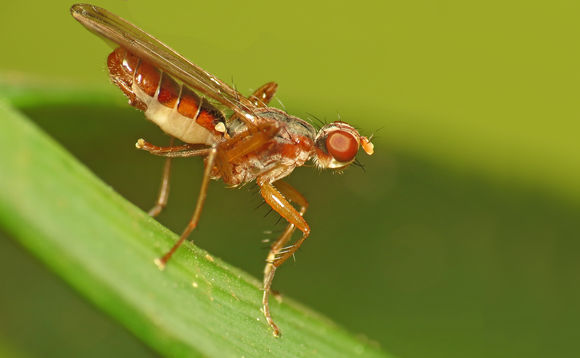 Description:
Daffodil Fly (Norellia spinipes) maleFirst found in Surry in 1965 and spreading ever since. The larvae mine the leaves and pupate at the base of the plant and sometimes damage the bulbs (Smith, 1989). Most records are for the Spring (April to June) when adults are usually found on daffodil leaves. Thought to have been introduced in imported bulbs.I started looking for these flies last year and found I could attract them to the garden by leaving bunches of Daffodils bought as cut flowers in the garden after they were past their best.This one was photographed on a living Daffodil plant, in the garden at TM166450 this lunch time, 10 April 2015.ID notes from Malcolm Smart's comment on a previous sighting: "it has only 2 pairs of dorsocentral bristles (one in front of the suture and one behind. It has only one row of ventral spines along it's front tibiae. Norellisoma species have more than two pairs of dorsocentrals and 2 rows of ventral bristles along the front tibiae. Males of spinipes have a pair of thumb-like projections pointing backwards and downwards below sternite 5". The single row of spines is obvious in the photo. The fly certainly doesn't have more than 2 pairs of dorsocentrals and you can see the thumbs, though they aren't pointing down because he has his rear end raised, like Spring herself, in the air...
Included On The Following Pages:
This image is not featured in any collections.
Source Information
license

copyright

Martin Cooper
original

partner site

ID

16478094583