Image of Plagioscion surinamensis (Bleeker 1873)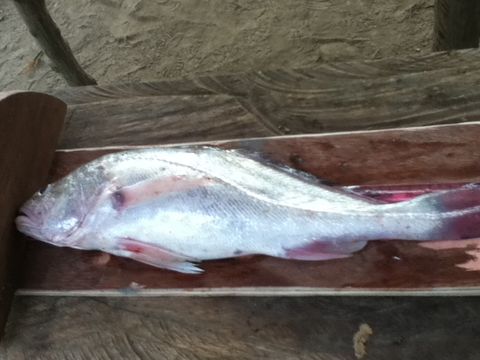 Description:
Registro y Observación: Exploradores Arcoiris. Nombre común: Corvinata Nombre científico : Plagioscion Surinamensis El Género Plagioscion , es endémico de las aguas dulces Sur Americanas, en donde sus miembros se distribuyeron originalmente en el río Magdalena, río Amazonas, río Orinoco, bajo río Paraná y los ríos de la Guyanas. Los miembros del género han sido también introducidos en las cuencas del Alto río Paraná y río São Francisco y en los embalses artificiales del noreste de Brasil , su monofilia es soportada por dos caracteres (proyección intercalar descendente y las escamas modificadas de la línea lateral ) y su sistemática es poco conocida, una situación desafortunada dada la importancia del género en las pesquerías de subsistencia y comercial Se distribuye en las cuencas de los ríos Magdalena y Amazonas, en Colombia y Brasil, respectivamente (Casatti, 2005). Aunque su ciclo de vida se desarrolla en aguas continentales, puede vivir largos períodos en el océano (Miles, 1947), realizando migraciones medianas entre 100 y 500 km (Usma et al., 2009). Se alimenta principalmente de peces, e insectos, gusanos y camarones como alimentos secundarios. Bibliografía: George Dahl. (1977). Los Peces del Norte de Colombia. INDERENA. María M. Aguilera Diaz (2006). El Canal del Dique y su subregión. Banco de la República. Charles W. Olaya Nieto (2006). Estimación de los parámetros de peces comerciales del rio San Jorge. Universidad de Córdoba
Included On The Following Pages:
This image is not featured in any collections.
Source Information
license

copyright

EXPLORADORES ARCOIRIS
original

partner site

ID

https://www.inaturalist.org/photos/4069842