[0874] Blastobasis lacticolella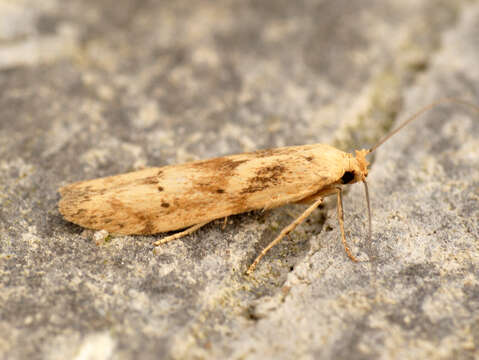 Description:
Catch Report - 05/06/12 - Back Garden/FarmlandInto June we go and another good haul of moths including a few new ones for the year. Coleophora deauratella being a new micro for my records.Other highlights including a lovely fresh Sandy carpet, an uncommon visitor, Ypsolopha nemorella and the mprobably migrant Pyralid Sitochroa verticalis.The weather is very changeable at the moment and a strong south-facing wind is dominating us now. Coupled with mild temperatures, we could see some more migrants reaching our traps in the next few nights. Catch Report - Braughing 05/06/12 - 1x 125w MV Robinson TrapMacro Moths1x Sandy Carpet [NFY]1x Poplar Grey [NFY]4x Ingrailed Clay4x Buff-tip9x White Ermine1x Buff Ermine26x Treble Lines 1x Clouded Silver20x Rustic Shoulder-knot5x Setaceous Hebrew Character 4x Poplar Hawk-moth7x Nutmeg 2x Flame10x Green Carpet 2x Common Carpet2x Oak Hook-tip1x Peppered Moth 29x Common Swift1x Scalloped Hazel 1x Marbled Minor2x Common Pug1x Oak-tree Pug2x Spruce Carpet1x Scorched Wing 1x Scorched Carpet2x Brimstone Moth2x Grey Pug1x Heart & Dart2x Brown Rustic1x Light Emerald1x Turnip Moth1x Lime-speck Pug2x Mottled Pug 2x Cinnabar1x Silver-Y 3x Spectacle5x Angle Shades 3x Flame Shoulder1x Grey-pine Carpet2x Pale Oak Beauty 5x Latticed Heath1x Brimstone Moth1x Small Waved Umber 3x Silver-ground Carpet1x Pale Tussock1x Shuttle-shaped DartMicro Moths1x Coleophora deauratella [NEW!] 1x Hedya pruniana [NFY]1x Sitochroa verticalis [NFY]1x Ypsolopha nemorella [NFY]1x Cocksfoot Moth Glyphipterix simpliciella [NFY]1x Small Magpie Eurrhypara hortulata [NFY]1x Blastobasis lacticolella [NFY]2x Celypha lacunana1x Tinea trinotella2x Espheria sulphurella 1x Parornix sp.3x Monopsis weaverella4x Aethes smeathmanniana1x Cochylis atricapitana2x Diamond-back Moth plutella xylostella1x Bee Moth Aphomia sociella 1x Agonopterix arenella 4x Crambus lathoniellus 1x Agapeta hamana
Included On The Following Pages:
This image is not featured in any collections.
Source Information
license

copyright

Ben Sale
original

partner site

ID

4b1f0030c3710393b2138820060af96f