Scathophaga sp. (Scathophagidae) - dung fly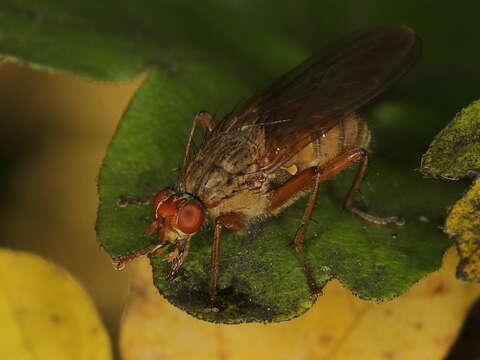 Description:
L: 6-8mmfamily characteristics: the back of the head is noticeably rounded with a patch of fine hair on the bottom part of the occiputPhylum: Arthropoda LATREILLE, 1829 (arthropods, Gliederfer)Subphylum: Hexapoda BLAINVILLE, 1816 (Sechsfer)Class: Insecta LINNAEUS, 1758 (insects, Insekten)Subclass: Pterygota LANG, 1888 (Fluginsekten)Infraclass: Neoptera MARTYNOV, 1923Order: Diptera LINNAEUS, 1758 (true flies, mosquitoes & gnats, Zweiflgler)Suborder: Brachycera SCHINER, 1862 (true flies, Echte Fliegen)Infraorder: Muscomorpha [Syn.: Cyclorrhapha]Superfamily: MuscoideaFamily: Scathophagidae ROBINEAU-DESVOIDY, 1830 (dung flies, Dungfliegen) [Syn.: Cordyluridae]some info on dung flies: scathophagidae.myspecies.info/scathophagid-checklist/scat...Genus: Scathophaga MEIGEN, 1803 (Gelbe Dungfliege)[det. Rui Andrade, 2017, based on photos]E-Germany, Brandenburg: vic. Guben, 22.10.2013IMG_3614
Included On The Following Pages:
This image is not featured in any collections.
Source Information
original

partner site

ID

01d05c6c950992d7d33ca286341f9681