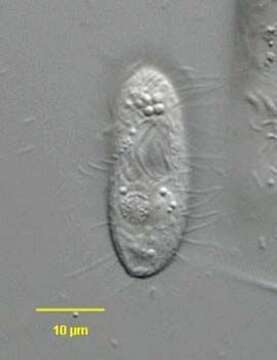 Description:
Ventral view of Dexiotrichides centralis (STOKES, 1886) , a sapropelic hymenostome ciliate. D. centralis is the only freshwater species of the genus. The cell is reniform and laterally compressed. The relatively large cytostome is located in the center of the body (seen well here). There are three adoral membranelles. There is an undulating membrane on the right margin of the cytostome. The somatic kineties are longitudinal. On the right surface there is an oblique row of longer cilia slanting posteriorly from the cytostome (seen here). There is a long caudal cilium. The contractile vacuole is terminal. The macronucleus is spherical . D. centralis is a facultative anaerobe. Easily confused with members of the similar genus, Dexiotricha. Collected from the bottom material in a freshwater aquaculture tub near Boise, Idaho in October 2003. DIC. DIC  Song et al have described a marine species, Dexiotrichides pangi [Song et al . Dexiotrichides pangi n. sp. (Protozoa, Ciliophora, Scuticociliatia), a New Marine Ciliate from the North China Sea. J.Eukaryot. Microbiol., 50(2), pp. 114-122,2003.]
Included On The Following Pages:
This image is not featured in any collections.
Source Information
author

William Bourland

provider
original

partner site

ID

27474884