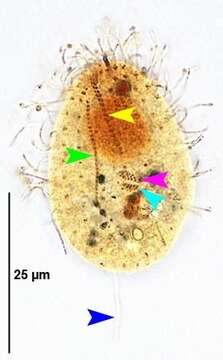 Description:
Oral infraciliature of the pleuronematine scuticociliate, Ctedoctema acanthocryptum (Stokes, 1884). Small elongate to oval ciliate that is slightly dorsoventrally compressed. There is a prominent paraoral membrane (green arrowhead) which begins subapically and extends approximately two-thirds down the length of the cell on the right side of a shallow groove. The cytostome is at the posterior end of this groove. There is a three part adoral zone of membranelles on the left of the peristome. M1 (yellow arrowhead) is a longitudinal file of dikinetids from the sub-apical pole to about midway down the cell. M2 (pink arrowhead) and M3 (light blue arrowhead) are small, oblique patches of kinetids posterior to M1. Somatic ciliation uniform (not seen in this preparation). The dark blue arrowhead marks the single long caudal cilium.Collected from freshwater pond near Boise, Idaho October 2004. Silver carbonate stain (see Foissner, W.Europ. J. Protistol.27, 313-330; 1991). Brightfield optics.
Included On The Following Pages:
This image is not featured in any collections.
Source Information
author

William Bourland

provider
original

partner site

ID

27477930