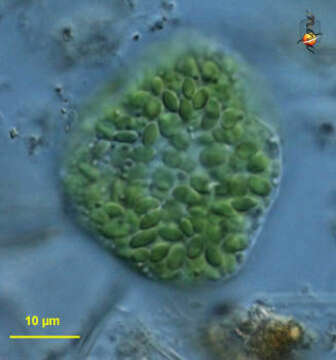 Description:
Gonyostomum (go-knee-os-tea-um) is a raphidophyte stramenopile. There are typically two flagella inserting subapically, one projecting forwards in swimming cells, the other trailing. With many discoidal plastids, with chlorophylls a and c, but in this genus the plastids look as green as those of chlorophytes and euglenids. Distinguish from those two groups because it does not have a cell wall as do chlorophytes, and it does not have the ridged pellicle. thickened flagella nor eyespot of the euglenids. Differential interference contrast.
Included On The Following Pages:
This image is not featured in any collections.
Source Information
author

David Patterson and C. R. Tomas

provider
original

partner site

ID

27471303