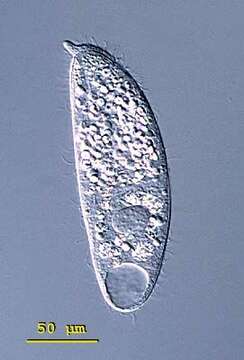 Description:
Spathidium (spa-thid-ee-um) porculus, the body is elongate, the posterior end is bluntly pointed or rounded but the anterior end is distinctively swollen - often fan-shaped and obliquely truncated. There is an ciliated apical ridge which is lined by toxicysts. The oral aperture is a slit that lies along the length of this ridge. The cilia are uniformly distributed in longitudinal parallel rows on both lateral surfaces. The macronucleus is highly variable, often elongate, ribbon-like or moniliform. The contractile vacuole is single and at the end of the cell. Spathidium feeds on other ciliates. It lives in fresh water ponds and lakes. The species is unmistakable because of its nose like projection of the oral apparatus. Slightly squashed cell. 136 microns. Differential interference contrast.
Included On The Following Pages:
This image is not featured in any collections.
Source Information
author

Martin Kreutz

provider
original

partner site

ID

27473237