Image of unclassified Phyllodocida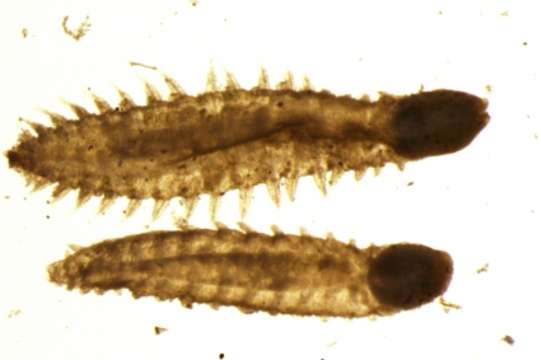 Description:
Description: Operational taxonomic unit: Sphaerodoridae sp. A. Short and grub-like body. Surface covered by papillae. Approximate lenght: 3 mm Macrofauna (sieved on 0.5 mm).
Item Type: Image
Title: Sphaerodoridae sp.
Copyright: SERPENT project
Species: Sphaerodoridae sp.
Behaviour: deposit feeder
Site: Atlantic -- Norwegian -- Dalsnuten
Site Description: Seafloor
Depth (m): 1452
Latitude: 66 deg 34' 33" N
Longitude: 3 deg 32' 46" E
Countries: Norway -- Norwegian Sector
Habitat: Benthic
Rig: Aker Barents
Project Partners: Shell, Aker Drilling, Oceaneering
ROV: Magnum 142
Deposited By: Dr K Kroeger
Deposited On: 21 July 2011

Included On The Following Pages:
This image is not featured in any collections.
Source Information
license

copyright

SERPENT Media Archive Project
original

partner site

ID

http://archive.serpentproject.com/2123/01/thumbnails/medium.jpg