Hygrocybe-splendidissima_6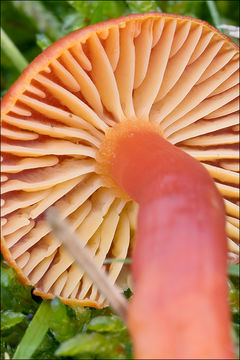 Description :
Hygrocybe splendidissima, syn.: Hygrocybe punicea f. splendidissima (P.D. Orton) D.A. Reid, Hygrocybe punicea var. splendidissima (P.D. Orton) Krieglst., Hygrophorus splendidissimus P.D. OrtonSplendid Waxy CapSlo.: bleea vlanicaDat.: Oct. 20. 2010Lat.: 46.33174 Long.: 13.68617Code: Bot_472/2010_DSC5997Habitat: Unimproved grassland, northeast oriented mountain slope, calcareous ground, mostly sunny, exposed to direct rain, average precipitations ~ 3.000 mm/year, average temperature 6-8 deg C, elevations 650 m (2.100 feet), alpine phytogeographical region.Substratum: grassland soil. Place: Vrsnik valley, at the foot of Mt. rni vrh, 1.544 m (5.064 feet), East Julian Alps, Posoje, Slovenia EC Comments: growing scattered; pileus dry and shiny; stem irregularly compressed or twisted, concolorous with the cap; SP white; pileus diameter 2 (3) cm (0.8 (1,2) inch); smell indistinctive (fresh mushroom). Spore dimensions: 8,3 (SD = 0,5) x 4,8 (SD = 0,3) micr., Q = 1,74 (SD = 0,12), n = 30. Protection: Enlisted in the Slovene Red List of rare and endangered species, marked by "I". Supposedly endangered but not assigned to any particular protection category due to insufficient data.Ref.: (1) D. Boertmann, Hygrocybe, 2nd Rev., Svampetryk (2010), p 104 (2) M.Bon, Parey's Buch der Pilze, Kosmos (2005), p 106 (3) Personal communication with Mr. Bojan Rot, www.gobenabovskem.si .
Inclus dans les pages suivantes :
Cette image ne figure dans aucune collection.
Informations de provenance
licence

droit d'auteur

Amadej Trnkoczy
original

site partenaire

ID

5155193991