Introduction
Species of Leachia are easily recognized by the straight cartilagenous, tubercular strip on the mantle that arises from each point of funnel-mantle fusion, the slender, tapering mantle and the terminal fins with a combined oval shape.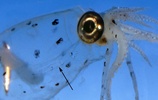 Figure. Ventrolateral view of the antrior region of Leachia dislocata showing a transparent, cartilagenous strip bearing tubercules (arrow). Tubercules can be difficult to see because of their transparency. Photograph by R. Seapy.
Leachia species, however, are not easily recognized. Many names exist in the literature and most have poor descriptions associated with them and are based on paralarvae. At present, geographical location is one of the most important characteristics used in identification. The type localities of the named species are:
Atlantic Ocean
Leachia atlantica - eastern North Atlantic, 36°, 10°W.
Leachia lemur - western North Atlantic, east of Cape Hatteras, 35°N, 73°W,.
Leachia sp. A - western South Atlantic, 39°S, 53°W.
Indian Ocean
Leachia cyclura - south Indian Ocean, 37°S 33°E.
Pacific Ocean
Leachia danae - (Gulf of Panama).
Leachia dislocata - off Southern California, eastern temperate Pacific.
Leachia pacifica - south Pacific Ocean, 15°S, 168°W
Brief diagnosis:
A cranchiin...
with one cartilagenous strip bearing tubercules on the mantle originating at each point of funnel-mantle fusion.
Trusted