Introduction
Histioteuthis berryi is known from a small number individuals, none of which is mature. The largest known specimen has a ML of 49 mm. Paralarval stages are unknown. The species occupies the subtropical and temperate region of the North Pacific.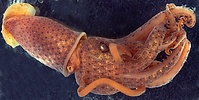 Figure. Ventrolateral view of H. berryi, off California, preserved. Photograph by R. Young.
Diagnosis
A histioteuthid ...
occuring in the North Pacific with 4 series of arm IV photophores.
Trusted