Ecology
Associations
Known prey organisms
Heteroptera (heteropteran (undet.)) preys on:
Ips grandicollis
Ips calligraphus
Xyleborus fitchi
Orthotomicus coelatus
Pithyophthorus annectens
Pithyophthorus pullus
Dendroctonus valens
Dendroctonus tenebrans

Based on studies in:
USA: North Carolina (Forest, Plant substrate)

This list may not be complete but is based on published studies.
H. E. Savely, 1939. Ecological relations of certain animals in dead pine and oak logs. Ecol. Monogr. 9:321-385, from pp. 335, 353-56, 377-85.
Trusted
Evolution and Systematics
Evolution
Discussion of Phylogenetic Relationships
Alternative views on the relationships of Heteroptera have been proposed. For instance:
Tree from Schuh (1979); and Schuh and Polhemus (1980).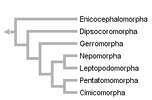 Tree modified from Zrzavy (1992):

Tree modified from Manher (1993); Shcherbakov and Popov (2002):

Trusted
Disclaimer
EOL content is automatically assembled from many different content providers. As a result, from time to time you may find pages on EOL that are confusing.
To request an improvement, please leave a comment on the page. Thank you!