General Description
Microscopically, Candida albicans can appear as both budding yeast cells and pseudohyphae. The budding cells are small, oval, and thin-walled. The pseudohyphae are about two to six micrometers in diameter with clusters of blastoconidia surrounding it. This organism also produces chlamydoconidia that are thick-walled, round, and at the terminal end of the hyphae.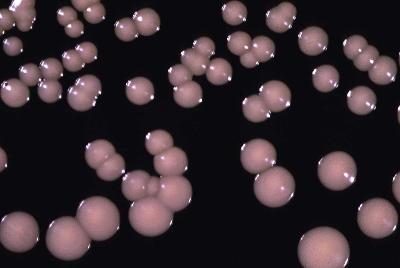 In culture, C. albicans appear as cream-colored, smooth, with a yeasty odor on Sabouraud glucose agar containing cyclohexamide. Cultures are incubated at either room temperature or 37 degree Celsius. Chlamydoconidia are produced from cornmeal agar plus 0.5% to 1% Tween 80, zein agar, rice infusion agar, cream of rice agar, as well as other types, and should be incubated at 24 degrees Celsius.
With a low concentration of yeast cells, the organism will produce germ tubes. Isolates that produce these germ tubes are given a presumptive identification of C. albicans.
See Tom Volk's page on Candida
Trusted