Discussion of Phylogenetic Relationships
Phylogenetic hypothesis of the Asteroidea based on Blake (1987). These relationships, as well as intra-order relationships, are contentious and re-evaluation of asteroid phylogeny continues (see Discussion of Phylogenetic Relationships, below).
Specific use of phylogenetic methods in studies of asteroid evolutionary relationships began in the late 1980s. These analyses (using both morphological and molecular data) have resulted in conflicting hypotheses of asteroid phylogeny. Phylogenetic analyses are continuing to be re-evaluated with additional data. Since their results are still somewhat contentious, they have yet to initiate changes in our classification system.
Evidence from morphological characters
In 1987, two differing hypotheses of order level relationships were proposed based on analyses of morphological characteristics (Blake 1987, Gale 1987, Figure 6,7). These two phylogenies differ due to differences in opinion about character polarity (assigning ancestral or derived status to a particular state of a character) and the different morphological characters used in the analyses (note that Gale does not specifically use phylogenetic methods). Both authors emphasized the importance of ambulacral characters to asteroid classification and recognized the distinction between Paleozoic and post-Paleozoic forms (i.e. Ambuloasteroidea, Blake and Hagdorn 2003).
However, Gale (following McKnight 1975) focuses on the lack of suckered tubefeet in the Paxillosida, considering them primitive. As a result, his phylogeny reflects two major groups: a basal Paxillosida and the remaining asteroids, all having suckered tubefeet, which he termed superorder Surculifera. Blake considers suckered tubefeet to be the ancestral condition. His phylogeny reflects two major asteroid groups: superorder Forcipulatacea (Forcipulatida + Brisingida) and a clade of the superorders Valvatacea + Spinulosacea (Valvatida, Notomyotida, Paxillosida, Spinulosida and Velatida). Outgroup comparison with Calliasterella and inclusion of the Trichasteropsida results in a basal Forcipulatacea.
Figure 6. Blake's (1987) hypothesis of Asteroidea relationships.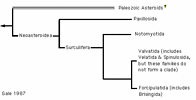 Figure 7. Gale's (1987) hypothesis of Asteroidea relationships.
The differences in these proposed phylogenies highlight questions about asteroid relationships that are still unresolved. The identification of the basal (neo)asteroid group has been the driving question of additional studies (see Evidence from molecular characters, below). Additionally, ordinal definition, particularly for Blake's Valvatida, Velatida and Spinulosida, is problematic. Such problems were not new to Blake and Gale. Although many asteroid groups can be clearly defined morphologically (Forcipulatida, Brisingida, Notomyotida), asteroid morphology is complex and diverse. Other groups are less clearly defined.
Evidence from molecular characters
Additional phylogenetic analyses incorporating molecular data with morphological data (Lafay et al. 1995) and using molecular data alone (Wada et al. 1996; Knott and Wray 2000) were presented in an effort to resolve phylogenetic arguments. Unexpectedly, these studies have done little to elucidate asteroid relationships and may have only added to the confusion.
Lafay et al. (1995) present an unrooted phylogeny deduced from analysis of a combined morphological data set taken from Blake (1987) and Gale (1987) with unordered character states (Figure 8). Although very few taxa were studied, their phylogeny supports the definition of asteroid orders proposed by Blake but separates the Paxillosida from the Valvatida. Their analysis with molecular data alone (sequence data from 28S rRNA) results in several conflicting topologies due to weak phylogenetic signal. Most of this signal is masked by that from the morphological data set when the two data sets are combined. However, after evaluating several rooting positions using molecular data from other echinoderms in outgroup comparison, Lafay et al. (1995) conclude that the Paxillosida may not be monophyletic and that the paxillosid genus Astropecten may be the sister group to the remaining asteroids, reminiscent of Gale's phylogeny.
Wada et al. (1996) include more taxa for additional investigation of ordinal monophyly (Figure 9). In multiple analyses of their molecular data set (sequence data from 12S and 16S rDNA), they find that paxillosids are paraphyletic with the paxillosid genus Luidia as the basal asteroid taxon. In addition, the Valvatida is not monophyletic and a forcipulatid clade falls within a group of valvatids, a velatid and spinulosids, a relationship in stark contrast to that proposed by Blake (1987). Further, the Spinulosida are never grouped with the Velatida, which Blake (1987) proposed as their sister group and which previously were considered a group within the Spinulosida (Spencer and Wright 1966, McKnight 1975, Blake 1981a).
Knott and Wray (2000) expand taxon sampling even more, but their molecular data set (sequence data from mitochondrial tRNA and COI genes) fails to resolve questions of asteroid phylogeny (Figure 10). Significantly, the Paxillosida is not basal in their results (although Astropecten is not included). The results of different tree reconstruction methods are not in agreement, and basal groupings are only supported by bootstrapping in the Neighbor-Joining analysis. The proposed phylogeny is similar to Blake (1987) in that two lineages (one largely of forcipulatids and the other largely of valvatids) are recovered, but Valvatida and Velatida are not monophyletic and some velatids plus the Spinulosida fall in the forcipulatid clade.
Figure 8. Lafay et al.'s (1995) hypothesis of Asteroidea relationships.
Figure 9. Wada et al.'s (1996) hypothesis of Asteroidea relationships.
Figure 10. Knott & Wray's (2000) hypothesis of Asteroidea relationships.
Evidence that the Concentricycloidea are asteroids
The position of the Concentricycloidea has been contentious since its discovery in 1986. Close relationship between the Concentricycloidea and asterozoans is expected (see Baker et al. 1986, Rowe et al. 1988, Pearse and Pearse 1994, Mooi et al. 1998), but argument over its taxonomic position continues. As yet, no changes in taxonomy have been made. The morphological features of concentricycloids are so distinct (e.g. two circumoral canals, a single peripheral ring of podia) that the tendency to recognize them as a separate echinoderm class is quite strong. Pearse and Pearse (1994) included the Concentricycloidea in a phylogenetic analysis using morphological characters defined by Blake (1987) and found that Concentricycloidea fall outside the asteroid clade. Further clarification of skeletal homologies between concentricycloids and asteroids (Mooi et al. 1998) supports asterozoan affinities, but questioned placing concentricycloids as close relative to the asteroid order Caymanostellidae (Velatida; Rowe et al. 1988, Smith 1988, Belyaev 1990). Caymanostellids and concentricycloids have superficially similar body plans which may be due to convergence rather than true relationships (Pearse and Pearse 1994, Mooi et al. 1998). Contribution of DNA sequence data from Xyloplax turnerae and phylogenetic analysis of a combined morphological and molecular data set (Janies and Mooi 1999, Janies 2001), however, supports recognizing concentricyloids as asteroids. In these analyses, Xyloplax is in a clade with the forcipulatid Rathbunaster and not with velatids (although Caymanostellidae is not represented). Support for relationships within the Asteroidea is low, but Xyloplax is positioned well within the asteroid clade.